Vitamins for everyone!
Our goal is to make the world healthier. That is why we always think quality over quantity. Our health is greatly affected by what we eat, and therefore we believe that we should all be supplied with the nutrients that our bodies need in order to function optimally.
In a combination of our 40 years of experience and the latest knowledge and research, we offer a wide range of vitamins, minerals and herbs for both children, young people, adults and seniors. Then everyone is guaranteed a healthier future.
Blog
---
HPMC - i.e. hydroxypropyl methylcellulose - was originally developed as an auxiliary substance for pharmaceutical production. It was often used as a fine powder and is made on the basis...   
Continue reading

→
And what do you do to maintain an optimal level of vitamin D? In Denmark, several studies have shown that approx. 50% of the population has mild and approx. 15%...   
Continue reading

→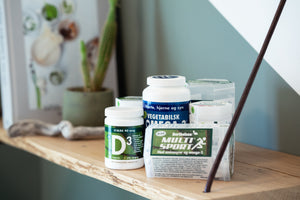 Do you know which vitamin supplements are best? Or do you know how to find out? It can be difficult to compare food supplements and find out which ones contain...   
Continue reading

→
Focus on quality
Our product philosophy is to deliver quality products, and we therefore always strive to provide you with the best possible nutritional supplements. Our team spends a lot of time carefully selecting the various ingredients and ensuring the optimal composition of vitamins, minerals, herbs and other nutrients that provide the best combination.

All products at dfi are produced in accordance with the international standard HACCP (Hazard Analysis and Critical Control Point (including GMP)).
In addition, our nutritional supplements contain as few additives as possible, while all our minerals are organic with high bioavailability for better absorption.
Read more about us
Kids Zoo supports the clowns
We are proud that again this year we can support the Danish Hospital Clowns, who make a fantastic effort for children in the Danish hospitals.
dfi Vegan
We are proud that 57 of our total of 63 products are 100% vegan - and of course we are working to get the last ones on board. Our vegan products are labeled with our dfi Vegan logo, so you can safely and easily shop vegan.
The logo is your guarantee that the product complies with the following standards:
- No animal ingredients
- No animal testing
- No cross-contamination
See vegan products
Free tastings
Do you have fussy children or do you want to make sure that the tablets/capsules are not too big? Then you can order a free taste test of all our vitamin gummies, as well as free test bags of our tablets and capsules. You write to us via the "contact us" form.
Get a free taste test